Motorized screen lifter with centered rotation
Home Automation
This screen motorization allows the storage of a flat screen in a piece of furniture. Once the screen is deployed, this mechanism allows it to be oriented up to 90° to make it visible from several points of view inside a room.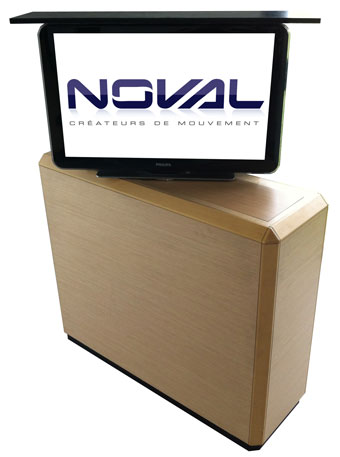 ---
This device can be integrated into a piece of furniture as well as into any other room. It thus offers an opportunity to save a lot of space without compromising viewing comfort thanks to its wide angle of rotation.
It is therefore particularly suitable for large interior spaces with multiple viewpoints from which the screen can be viewed. Hotels, museums, conference and meeting rooms are among its fields of application.
Once in closed position, the presence of the system + television assembly can be made totally invisible by adding a finishing shelf at the top of the screen to seal off the space through which the screen is deployed.
---
Earnings
Unobtrusive integration
Custom adaptable
Space optimization
Characteristics
For flat screen TVs up to 37"
Anti-pinch safety device
Maximum angle of rotation of 90° in upper position
Source voltage 22V to 28V. Max power 180W
Custom-built

Delivered ready to fit